KHONOMA VILLAGE INDIA'S FIRST GREEN VILLAGE
September 09, 2023
INTRODUCTION
Nestled amidst the lush hills of Nagaland, India, lies Khonoma Village, a place steeped in history, culture, and natural beauty. Known for its rich Naga heritage and commitment to environmental conservation, Khonoma has garnered recognition as a model for sustainable community-led tourism and biodiversity preservation.
WHY VISIT KHONOMA VILLAGE?
Nagaland has plenty of villages with its indigenous tribes spread across the state. However, Khonoma stood out for me as it's a well-planned village with a tourist centre. Their ingenious efforts on sustainable tourism, ample homestay options and the sight of wildflowers across the village all deserve admiration and praise. Khonoma with its stark natural beauty is maintained exceptionally well by its residents.
Hiking in the remarkable hues of greens of the luscious rice fields of Khonoma is a must-do for everyone who visits the village. The best part of Khonoma is with a short hike you get gorgeous views of the rice fields. The rice fields have these settlements which are used by the farmers to rest or have a snack. Vibhu, my guide and myself sat in the middle of this piece of heaven, watching the occasional farmer pass through the fields.
Khonoma Travel Guide Tip: Take a guided tour around the village and the terraced fields for INR 500 to see how the locals cultivate their fields. A guide will show you the different sustainable agricultural practices that are followed in the village.
Another tour the Khonoma tourist centre offers is to the nearby Mithun (bison) sanctuary. But I spent more time going around the paddy fields and didn't get a chance to visit the sanctuary.


A ray of sunshine in the rice paddy fields
HISTORICAL SIGNIFICANCE
Khonoma Village holds a significant place in Naga history. It is renowned for its brave resistance against British colonial rule during the late 19th century. The villagers of Khonoma, under the leadership of Angami Zapu Phizo, fiercely defended their land and identity, earning the nickname "The Land of Warriors."
The village's strong historical background is evident in its traditional architecture, with sturdy wooden houses and morungs (community meeting houses) that showcase the artistic skills of the Naga people. Locals proudly preserve their heritage through traditional festivals, arts, crafts, and folk music, offering visitors a unique glimpse into their vibrant culture.
ADDITIONAL THINGS TO SEE IN KHONOMA – KHONOMA TRAVEL GUIDE
The culture of Khonoma village is rich and has plenty of history and folklore to keep one entertained. The inhabitants of the village have built a mini-museum with artefacts of World War II.
The Khonoma village architecture is largely preserved even today. A morung is a common feature in Nagaland. Traditionally it was used as an educational institution for the youth. They learnt about their culture, customs and underwent training in warfare, martial arts and craftsmanship. They also bonded over folkloric traditions such as songs and native games. However today, it is used to display various handicrafts, art and weapons used in battles.
Khonoma Travel Guide tip: The village walk to the old forts, morungs and cairn circles help you familiarize with Naga culture.
A morung embellished with the cross motif and heads of hunted animals
Another interesting sight is a place called "Dahu", better known as a cairn circle. Plenty of small stones are placed around a big stone slab which is built to make announcements and conduct village meetings.
An intriguing ceremony which is held in Khonoma is called the "Feast of Merit" where the wealthiest person of the village organizes a feast for the locals to assert his social status. This ritual earns the privilege to erect a monolith and decorate the house with horns, swords and other Naga traditional ethnic motifs. The feast has a variety of meat on offer and this ceremony is celebrated like a carnival.
Semona fort war memorial
JOURNEY TO BECOMING ASIA'S FIRST GREEN VILLAGE
Like the rest of Nagaland, the people of Khonoma too were adept at hunting. This gradually destroyed their natural environment and affected the wildlife population. However, today things have changed and the inhabitants are committed to conserve wildlife and ecological diversity.
In 1993, over 300 Blyth's Tragopan, the state bird of Nagaland, were killed in a hunting competition. This awakened the more environmentally sensitive people of Khonoma.
Hunting was prohibited with the formation of Khonoma Nature Conservation and Tragopan Sanctuary ("KNCTS"), which revived the endangered Blyth's Tragopan. Further care was taken with vigilantes hired and soon steps were also taken with a ban enforced on logging all trees. In fact, today they even have a penalty for anyone found littering.
With these initiatives came the promotion of the upcoming eco-tourism destination by using solar-powered street lights. Safeguarding their diverse natural habitat, which they believe is crucial for their sustenance. It's these conservational actions that make the people and village of Khonoma unique.
In 2005, the tourism ministry of India named Khonoma as India's first "Green Village" and granted a sum of INR 30 mn (USD 7,00,000). This amount was directed towards improving the infrastructure of the village. Thus, setting an example to the many villages in Nagaland who can take a leaf out of their book.
Sustainable Agricultural Practices
For centuries Khonoma has been following sustainable agricultural practices in tandem with their conservation plans. The villagers prefer to solely rely on natural compost. They do not use any synthetic fertilizers or chemicals for agriculture.
Shifting Cultivation
Khonoma residents are blessed to have the Himalayan Alder Tree amidst their natural surroundings. Due to the tree's apparent healing properties of reviving nitrogen content in the soil, the villagers began to value their presence. The spike in their routine harvesting cycles was also evident when they planted crops around these trees.
Guess what? A little less than half of these Alder trees are over 200 years old. Due to their conservation, Khonoma has been self-sufficient in the case of food. To keep up with this culture, specific plots are used to grow essential foods. The villagers periodically shift cultivation to another piece of land. This allows the earlier plot to replenish its soil fertility.
Terrace Paddy Cultivation
Terrace cultivation has been in existence since the establishment of the village. The terrace paddy cultivation is a form of irrigated agriculture. Water flows through a system of interconnected channels in a pattern preventing water logging. Today, other than rice, vegetable crops yielding high market prices are also planted. The Angamis and the Chakhesang tribes are proficient at terrace paddy cultivation which distinguishes them from other tribes of Nagaland.
THE PEOPLE OF KHONOMA, THEIR HOMES & BELIEFS
The locals are engaged in serving the community and the welfare of the village. At an early age, individuals decide if they want to be involved in the farm or craftsmanship. While touring the village I came across many enthusiastic families who shared heart-warming stories of their lifestyle and culture.
Local craftsmen are known for making woven baskets out of ordinary bamboo. Women weavers are known for their intricate designs on handmade shawls. Other than agriculture and craftmanship, the locals earn by hosting guests in their homestay. Some also work at the tourist centre as local guides.
Houses in Khonoma are built of wood and the fencing around the house is usually in stones. The primary source of fuel is still firewood which is stored outside their homes. The village is well connected by cobblestoned roads. Almost all houses in Khonoma have a kitchen garden to meet their requirements of fruits and vegetables.
HOW TO REACH KHONOMA?
Khonoma is a 20 km bumpy drive from Kohima with the last stretch having mesmerizing views of the terraced fields.
Traveling by road in Nagaland is challenging, often a back-breaking journey. I travelled from Kohima to Khonoma in a share taxi which is the quickest but also the costliest way of getting here (INR 700).
The government offers bus services from Kohima's Main Town Centre (BOC) to Khonoma. However, the bus frequency is poor on this route. It is advisable to check the timings of the bus a day before you plan to travel to Khonoma.
HOW TO REACH KOHIMA?
By Air: The state airport is in Dimapur having frequent flights from all over the country, however mostly via Kolkata. Then a journey of approximately 3 hours from Dimapur to Kohima.
By Rail: The nearest railway station from Khonoma is Dimapur. Although your train might not be directly going to Dimapur, one can board a connecting train from Guwahati to Dimapur. Guwahati is well connected to the rest of the country.
By Road: Kohima is connected to Guwahati and Shillong, which are major cities in North-East India. Guwahati is 352 kms and Shillong is 414 kms from Kohima. Khonoma is 20 kms from Kohima.
WHERE TO STAY IN KHONOMA?
My Khonoma village homestay was in the midst of nature overlooking the gorgeous rice fields. It was the perfect opportunity to slow down and appreciate what nature has given us in abundance.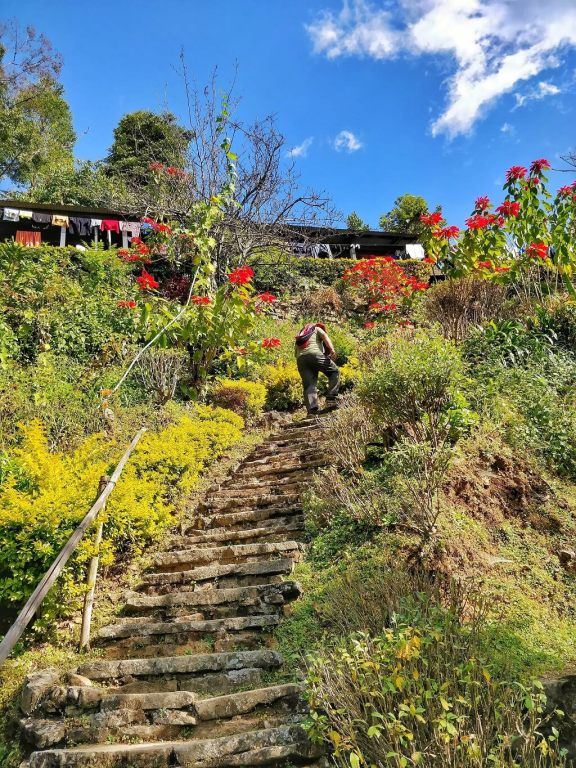 KHONOMA ACCOMMODATIONS
Hotel Doviepie Inn
Savino Homestay
Ecotone Homestay
Tuse Homestay
Dzuleke Village

C: 9436008243
Megoki Homestay
KHONOMA TRAVEL GUIDE | ENTRY FORMALITIES
A trip to Nagaland would require an entry permit. It would be an oversight to not mention it in the Khonoma travel guide as you can be stopped anywhere for random checks by the Naga Police. You can apply for an Inner Line Permit (ILP) on the website of the Government of Nagaland.
Website: https://ilp.nagaland.gov.in/
WHEN TO VISIT KHONOMA?
Khonoma is surrounded by tropical rain forests and thus the weather is pleasant most of the year. The sun sets early in this part of the country and by 4pm the temperature starts to dip depending on the time of the year.
The ideal time to visit this beautiful village is between October and February or better in December around the Hornbill festival dates. Nagaland largely being a Christian population it is a festive atmosphere in December.
HOW LONG SHOULD YOU STAY IN KHONOMA?
Khonoma is my favourite village in Nagaland where I can immerse myself in nature. Also, I prefer traveling slow and give myself more time to explore. I suggest you must give a couple of days to know the community better. Besides, no matter how many rice fields one has seen, there is no such thing as an overdose of rice terraces.
While you're here, Dzulekie – a nearby hamlet is also worth a visit. It is about 8 kms from Khonoma.
COMMUNITY-LED CONSERVATION
Khonoma Village takes immense pride in its efforts to protect the surrounding environment. In the early 2000s, the villagers, recognizing the importance of preserving their natural resources, initiated the Khonoma Nature Conservation and Tragopan Sanctuary (KNCTS). This project aimed to safeguard the region's biodiversity and foster sustainable development practices.
One of the significant successes of the KNCTS is the conservation of the endangered Blyth's tragopan (Tragopan blythii), a colourful pheasant species native to the region. The villagers' dedication to the conservation of this species led to the establishment of the Khonoma's Tragopan Sanctuary, which serves as a haven for these magnificent birds.
ECOTOURISM AND SUSTAINABLE DEVELOPMENT
Khonoma's commitment to environmental conservation is complemented by its embrace of sustainable ecotourism. The village's tranquil ambiance and breath-taking natural beauty have attracted travellers seeking an authentic and responsible travel experience.
The community has developed homestay initiatives, allowing visitors to immerse themselves in local life while contributing directly to the welfare of the villagers. Tourists can engage in activities such as village walks, traditional handicraft workshops, and cultural performances, all while supporting the local economy.
CHALLENGES AND FUTURE PROSPECTS
While Khonoma Village has made significant strides in promoting sustainable practices and preserving its heritage and biodiversity, it still faces some challenges. One of the primary concerns is striking a balance between the influx of tourists and the preservation of the village's unique culture and environment.
Additionally, the villagers continue to grapple with limited access to modern amenities, such as healthcare and education. Addressing these challenges requires a collaborative effort between the community, government, and various stakeholders to ensure sustainable development that benefits both the locals and visitors.
CONCLUSION
Khonoma Village stands as a shining example of how a community's dedication to its heritage and the environment can create a sustainable and authentic travel destination. By embracing ecotourism and preserving their Naga identity, the villagers of Khonoma have created a unique haven for travellers seeking an immersive cultural experience amidst the bounties of nature.
As we look to the future, it is crucial for Khonoma and similar communities worldwide to continue striking the delicate balance between development and preservation, thereby ensuring that their rich cultural tapestry and natural wonders endure for generations to come.
Leave a Reply